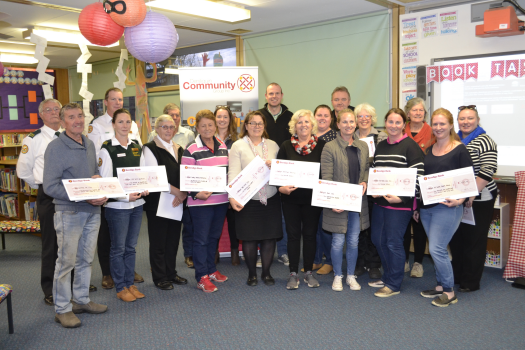 Supporting Our Community
The Deniliquin Community Group gives all of us the opportunity to make good things happen in our town by directing funding to projects and activities through an application process.
Successful grant applicants can provide new community services and equipment for all of us to benefit from.
The Deniliquin Community Group lets us make these projects a reality. It's all about working together, and through our partners Bendigo Bank and Community Telco® Australia, you can lend your support simply by doing your banking and using your phone.
This means important decisions about our community remain in our hands.
1. Do your banking with Bendigo Bank
Simply by conducting your everyday banking with Bendigo Bank you can help generate funds for the Deniliquin Community Group by tagging your accounts. The more business the Bendigo Bank receive, the more money we'll receive, and there is no catch. To have your Bendigo Bank accounts tagged, or to open an account with Bendigo Bank, give the Deniliquin Branch a call on 03 5881 3081 or email deniliquinmailbox@bendigobank.com.au
2. Get connected with Community Telco®
The same profit-share process applies when you move your home phone, business phone, mobile or internet service to Community Telco®. So tell your family, friends, neighbours and workmates how they can help build the Deniliquin community now. To tag your Community Telco® services, call Community Telco on 03 5454 5055.
3. Continue using your accounts and service from both partners as normal
Both Bendigo Bank and Community Telco® have committed to giving a percentage of their profit margins on our tagged accounts and services back to the Deniliquin community. This is an ongoing commitment at no cost to the customer.